⚡Flowverse #45: Most used Flow dApp
Solitaire Blitz
🌊 GM Flowverse Citizens! Increment Finance just launched their new product 'Farm' and cheekily announced that they will be releasing 'nft staking' next week.
Check the Twitter post below for more details 👀
1/ We have just launched our new product called "Farm":
app.increment.fi/farm
🥳 The 1st token farm is FLOW/USDC. You have to stake your FLOW/USDC LP tokens to receive USDC rewards. 1k USDC will be initially provided by us as a staking reward for the first 30 days
#defionflow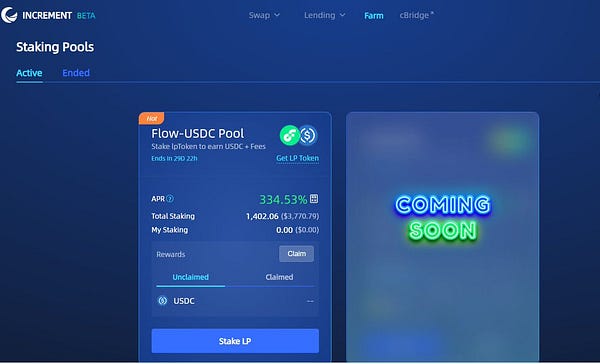 Upcoming Flow ecosystem events 📅
Cuvée Collective AMA (25th July, Flowverse Twitter Spaces)

Flowty AMA (27th July, Flowverse Twitter Spaces)

FEWOCiOUS x Billboard ChartStars AMA (27th July, Flowverse Twitter Spaces)
---
💸 Newsletter Sponsors
These companies make the Flowverse newsletter possible, so go check them out and thank them for their support!
---
💡Flow Blockchain News
---
🆕 New to the Flowverse
---
🔬 Deep Dive: Solitaire Blitz - the most used Flow dApp
Over the last two months Solitaire Blitz has surpassed UFC Strike, NFL All Day, NBA Top Shot and FLOAT to become the top Flow Blockchain dApp by monthly unique users.
Solitaire Blitz recorded a total of 279k users in the last 30d according to DappRadar, placing it #8 amongst all Blockchain apps, #5 for Blockchain gaming and #1 for Flow.
This is a BIG deal as it has even more users than the top Solana NFT marketplace, Magic Eden and usage has grown over 2000% (in a bear market)
What is Solitaire Blitz?
Solitaire Blitz is a a new take on the classic game, Solitaire. It is a mobile application that combines competition elements and social features with play-to-earn mechanics enabling players to earn RLY tokens.
How to play Solitaire Blitz?
The gameplay is that of classic Solitaire but players can participate in 1 v 1 matchmaking Solitaire games, multiplayer tournaments to be rewarded RLY token, as well as receive daily rewards.
Solitaire Blitz Roadmap
Following their successful mainnet launch with RLY token in Q2 2022, Solitaire Blitz is gearing up to release their own token along with implement NFT features. The full roadmap going forward is below.
Solitaire Blitz was built by Joyride Games
Joyride Games are a Web3 games platform aiming to power the next generation of metaverse projects.
In March 2022, they raised $14m in financing including from Coinbase Ventures, Dapper Labs, Solana Ventures and Animoca

Their Tennis Champs Genesis Series NFT Drop on Ethereum was a success with 952 volume traded, 1,200 owners and a floor price of 0.12 ETH

They are gearing up for the launch of several more blockchain games including Tennis Champs, Trickshot Blitz, Darts Blitz, 21 Blitz and more
What did Solitaire Blitz do right?
Used an existing token (RLY) as it's in-game currency

RLY is the native token of Rally - a social token-oriented protocol that allows creators to launch their own token and build a digital economy around their work.

By doing this, they may have benefited from exposure to the RLY community as well as enable users to access liquidity given RLY is already traded on multiple major exchanges

Gained vast popularity in key markets

They ensured their game was lightweight enough to run on low-end Android smartphones popular in India and Philippines. The company also has high visibility in these regions which are key play-to-earn markets

Didn't completely re-engineer the wheel

They have added new social and web3 mechanics to an existing, classic game instead of rebuilding a flashy new world from scratch
Key takeaway: Alongside Dapper products and FLOAT, Solitaire Blitz is one of the biggest breakthrough applications built on Flow to date. We're very excited to see more builders create simple to understand, user-friendly games on Flow.
---
⚡Upcoming Flow NFT drops
---
💼 Flow Ecosystem Jobs
Are you sick of your boring web1, or web2 job?
View and apply to 200+ Flow Blockchain ecosystem roles from 20+ companies here!
---
📧 Were you forwarded this email
?
😎 Share Flowverse to make our day
---
🌊 Explore the Flowverse
🌐 See all Flow projects, rankings (by Graffle), NFT drops, detailed research (ft. BlockVenture), jobs and investors on our website flowverse.co

🐦 Follow our Twitter for regular infographics of the Flow ecosystem

💬 Join our Discord to engage with the community
---
Thank you and have a great week.
DISCLAIMER:
All content provided herein our website, hyperlinked sites, associated applications, forums, blogs, social media accounts and other platforms is for your general information only, procured primarily from third party sources. Flowverse does not warrant the accuracy, security and up-datedness of this information. The information should not be construed as professional or financial advice of any kind. Any use or reliance on our content and services is solely at your own risk and discretion.